LINGKUNGAN BELAJAR BAHASA ARAB DAN KONSTRUKSI KARAKTER SANTRI: TINJAUAN PESANTREN MINORITAS MUSLIM
Ismail Suwardi Wekke

Sekolah Tinggi Agama Islam Negeri (STAIN) Sorong
Keywords:
madrasah, Arabic language, muslim minority.
Abstract
Madrasah or pesantren reflect a long history of development in Indonesian society. It is not limit to minority muslim to engage in enhancing religious institutions. It ranges from religious activities to community empowemernt. Therefore, this article explores how language learning would construct a character of learner. During a process of teaching and learning, santri (student) will have some behaviour to master the language. Furthermore, this study shows that the Arabic language learning conducted in environment sorounding pesantren (boarding school) as a source of learning. It will function as media as well. In addition, those activities will benefit in nearfuture for the contextual of living in society. Finally, as the premier program, Arabic language will expands students's skill and confident to explore Islamic horizon of knowledge.
Madrasah atau pesantren menggambarkan perjalanan sejarah yang panjang dalam masyarakat Indonesia. Termasuk tidak dibatasi pada keterlibatan minoritas muslim dalam pengembangan institusi keagamaan. Hal itu menjangkau kegiatan keislaman sampai kepada pemberdayaan masyarakat. Untuk itu, artikel ini akan menkaji bagaimana pembelajaran bahasa dapat mengkonstruksi karakter pembelajar. Selama proses pengajaran dan pembelajaran, santri (siswa) akan mempunyai kebiasaan tertentu dalam menguasai bahasa. Selanjutnya, kajian ini menunjukkan bahwa pembelajaran bahasa dilaksanakan dengan menggunakan lingkungan pesantren sebagai sumber belajar. Itu juga berfungsi sekaligus sebagai media. Selanjutnya, aktivitas tersebut akan memberikan manfaat di masa datang dalam kehidupan kontekstual di masyarakat. Akhirnya, sebagai program utama, bahasa Arab akan mengembangkan ketermapilan siswa dan kepercayaan diri untuk mengkaji cakrawala pengetahuan keislaman.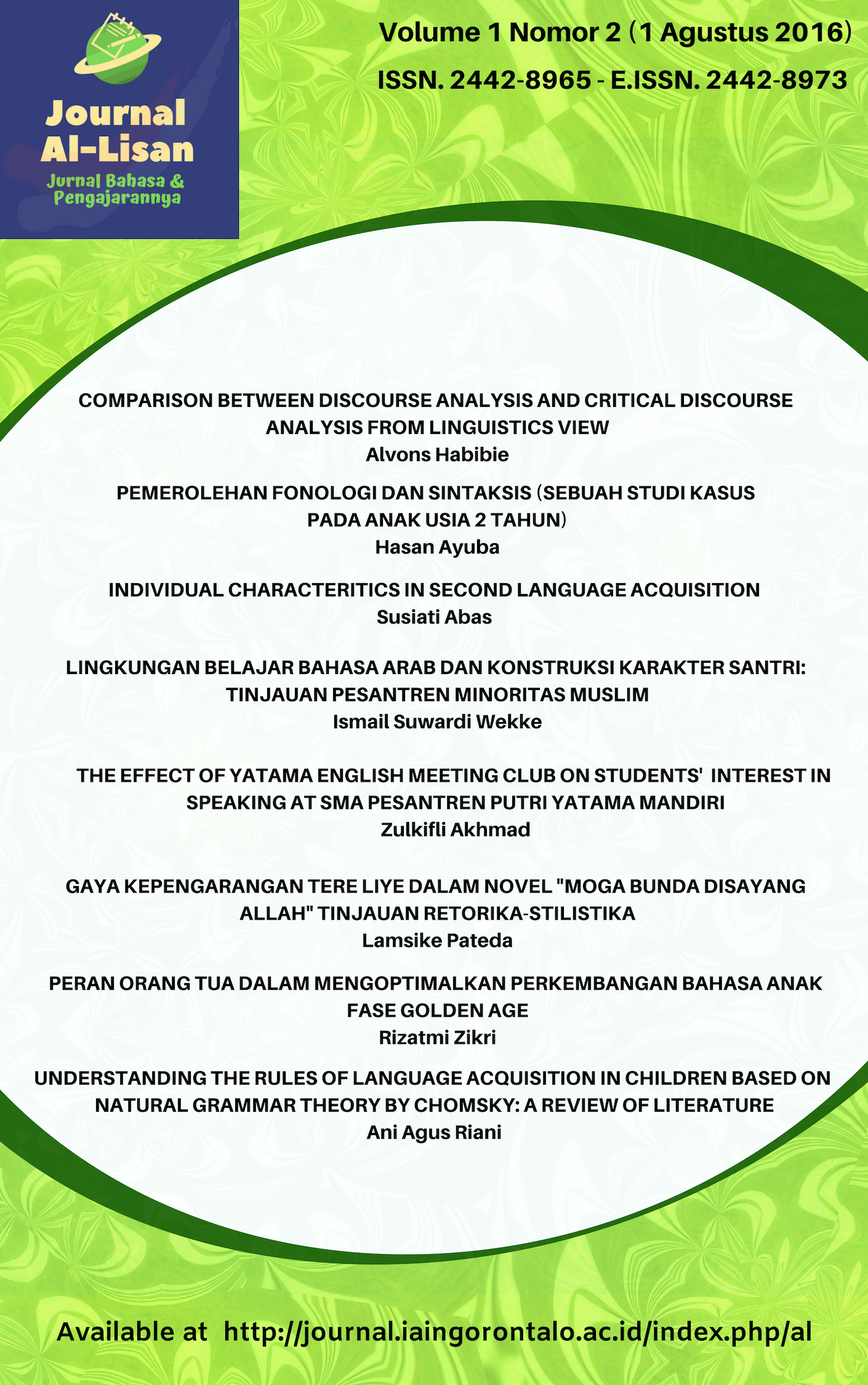 How to Cite
Wekke, I. (2018). LINGKUNGAN BELAJAR BAHASA ARAB DAN KONSTRUKSI KARAKTER SANTRI: TINJAUAN PESANTREN MINORITAS MUSLIM. Al-Lisan, 1(2), 49-76. Retrieved from http://journal.iaingorontalo.ac.id/index.php/al/article/view/320