UNDERSTANDING THE RULES OF LANGUAGE ACQUISITION IN CHILDREN BASED ON "NATURAL GRAMMAR" THEORY BY CHOMSKY: A REVIEW OF LITERATURE
Ani Agus Riani

Universitas Negeri Yogyakarta
Keywords:
Rules, Understanding, speech and language, Production
Abstract
Rules of language acquisition in children based on "Natural Grammar" theory by Chomsky discuss about how real the language acquisition in children happens, how the real mastery and production of language happens in order to determine the comprehension of children processing of sound into a message. Finally, the children be able to obtain the messages themselves into the language. It is based on the approach of Chomsky's theory that is a theory of Natural Grammar (a grammar truth of God). The results in child's language acquisition has been conditioned in the memory so that the child is ready to learn the rules of the language.
Aturan pemerolehan bahasa anak-anak yang didasarkan pada teori " Natural Grammar " oleh Chomsky membahas tentang bagaimana real bahasa akuisisi pada anak-anak terjadi, bagaimana nyata penguasaan dan produksi bahasa terjadi untuk menentukan pemahaman anak dalam memproses suara ke dalam sebuah pesan. Akhirnya, anak-anak dapat memperoleh pesan itu sendiri ke dalam bahasa. Hal ini didasarkan pada pendekatan teori Chomsky Natural Grammar (a grammar truth of God). Hasil dalam pemerolehan bahasa anak telah dikondisikan dalam memori sehingga si anak sudah siap untuk mempelajari aturan bahasa.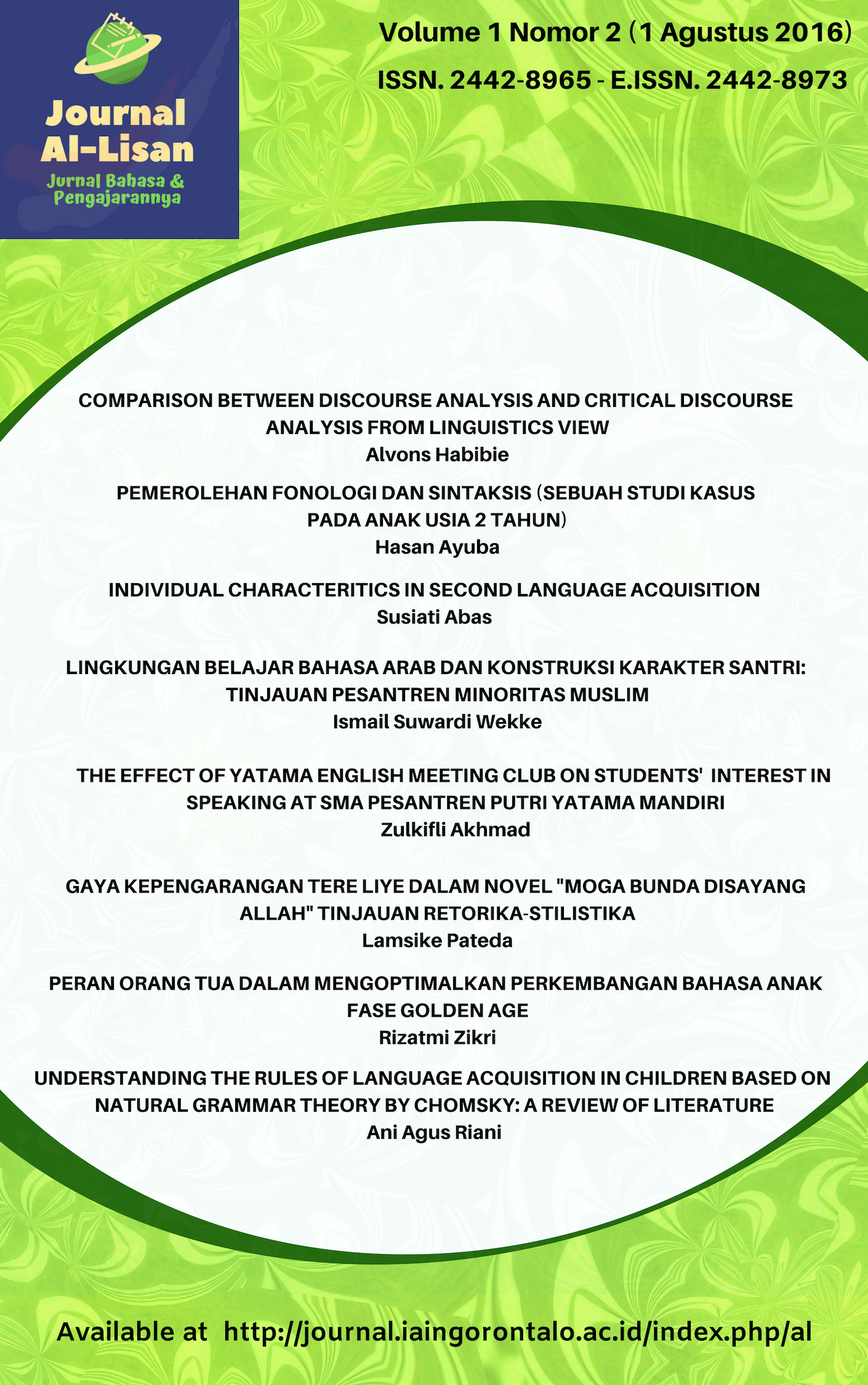 How to Cite
Riani, A. (2018). UNDERSTANDING THE RULES OF LANGUAGE ACQUISITION IN CHILDREN BASED ON "NATURAL GRAMMAR" THEORY BY CHOMSKY: A REVIEW OF LITERATURE. Al-Lisan, 1(2), 131-146. Retrieved from http://journal.iaingorontalo.ac.id/index.php/al/article/view/324