Masyarakat Madani dan Penguatan Demokrasi Politik Islam di Indonesia
Andi Jufri

IAIN Sulltan Amai Gorontalo
Keywords:
Madani Society, Islamic Politic, civil Society, Democracy
Abstract
Civil society is a socio-political construct that places Islam and the State in a state of mutual need, namely, Islam, on the one hand, as a moral guide for state management, and the State, on the other, as a foundation for Islamic values. This conception refers to the significant amount of the Medina-built society of the prophet Muhammad and Khulafaurrasyidin, which consists of five key pillars: monotheism, humanism, deliberations, justice, and Brotherhood.
This research aims to investigate how civil society interacts with the growth of political democracy in Indonesia. The researcher used descriptive qualitative techniques in this investigation by analyzing primary data collected from library studies. The data were processed using discourse analyzes and hermeneutic analysis techniques. Besides, the researchers used the historical, sociological, philosophical, and theological convergence approach. The research result revealed that the process of consolidating and improving political democracy in Indonesia remained bureaucratic and did not wholly represent civil society characteristics
References
Al-Qur'anul karim.
Al-Farabi, Tahsil Al-Saa-dah, Hyderabad: Dairat al-Ma'arif al-Utsmaniyah, 1345
Ali, Mukti, Ilmu Perbandingan Agama di Indonesia. Bandung: Mizan, 1998.
Azizy, Qodri, Melawan Globalisasi, Yogyakarta: Pustaka Pelajar,2003.
Azra, Azyumardi, Menuju Masyarakat Madani. Bandung: PT. Rosda Karya,1999.
Bakar, Osman, Civil Society: Its Components and Dinamics, Kuala Lumpur: IPI-ABIM,1998.
CJb, Masroer, dan Darmawan, Lalu, "Wacana civil Society (Masyarakat Madani) di Indonesia", Journal Sosiologi Reflektif, Volume 10, N0. 2, April 2016
Coward, Pluralisme dan Tantangan Agama-agama, Yogyakarta: Kanisius, 1989.
D.M, Dunlop, .ed,. Fusul al-Madaani; Aphorisms of the Statesman, Cambridge: University 0f Cambridge, Oriental Publications,1961.
David Tracy, Plurality and Ambiguity, Hermeneutic, Religion, Hope, University of Chicago Press, 1987.
De Tocqueville, Alexis, Democracy in America, Garden City, NY: Anchor Books, 2000.
Diamond, Larry, and Plattner, Marc F.The Global Divergence of Democracy, London & Baltimore: The John Hopkins University Press, 2001.
Gardono, Iwan Sujatmiko, 2001, Wacana Civil Society di Indonesia, Jurnal sosiologi edisi No.9, Jakarta, Penerbit Buku Kompas.
Gellener, Ernest, Muslim Society, Combridge Uviversity Press, 1981.
Hefner, Robert W.Civil Islam: Muslim and Democratization in Indonesia, New Jersey: Princeton University Press, 2000.
Hefner, Robert W., Democratic Civility-on the History and Cross-Cultural Possibilty of Democratic Ideal, New Brunswick-USA: Transaction Publisher, 1998.
Hermawati, Rina, Paskarina, Caroline, Runiawati, Nunung "Toleransi Antar Umat Beragama di Kota Bandung" UMBARA: Indonesian Journal of Anthropology, Volume 1 (2) Desember 2016 eISSN 2528-1569 pISSN 2528-2115.
Huntington, Samuel P, The Clash of Civilizations. Remaking of the World Order, New York: Simon and Schuster, 1999.
Hurriyah. "Civil Society and Democratis Consolidation in Indonesia: Problems and Challenge", Paper presented at the 3rd Yale-Indonesia Forum International Conference, "Social Justice and Rule of Law: Addressing the Growth of A Pluralist Indonesian Democracy", Semarang, 14-15 July, 2010.
Huwaydi, Fahmi, Demokrasi, Oposisi, dan Masyatakat Madani, (Terj), Bandung: Mizan, 1996.
L. Kreamer, Joel, Humanism in the Renaissance of Islam, Leiden: E. J. Brill, 1986.
Lewis, Bernad, The Jews of Islam, Princeton; Princeton University Press, 1985.
Lewis, Bernad, What Went Wrong? Western Impact and Middle Eastern Response, Oxford: Oxford University Press, 2002.
M. Natsir, Capita Selecta I. Jakarta: Yayasan Bulan Bintang Abadi dan Media Da'wah. 2008.
Madjid, Nurcholish, "Kedaulatan Rakyat: Prinsip Kemanusiaan dan Musyawarah dalam Masyarakat Madani", dalam Widodo Usman dkk.ed., Membongkar Mitos Masyarakat Madani, Cet.I, Yogyakarta: Pustaka Pelajar,2000.
Madjid, Nurcholish, Cita-Cita Politik Islam Era Reformasi, Jakarta: Paramadina, 1999.
Mahdi, Mahsin, Al-Farabi's Philoshophy of Plato and Aristoteles, Ithaca, New York: Cornell University press, 1962.
Malik, Dedy Jamaluddin & Subandy, Idy, Zaman Baru Islam Indonesia Pemikiran dan Aksi Politik, Bandung: Zaman Wacana Mulia, 1998.
Muslih, Mohammad (2010) Wacana Masyarakat Madani: Dialektika Islam dengan Problem Kebangsaan. Tsaqafah, 6 (1). pp. 129-146. ISSN 1411-0334
Nasr, Hossein, The Need of Sacred Science, United Kingdom: Curzon Press, 1993.
Pannikar, Dialog Intra Religius, Yogyakarta: Kanisius, 1994.
Rahman, Budhy Munawar, dalam Pengantar Nurcholish Madjid, Cita-Cita Politik Islam Era Reformasi, Jakarta:Paramadina, 1999.
Robert D. Putnam, Robert D., Making Democracy Work, Civic Tradition in Modern Italiyn Princekton, NJ: Princeton University press, 1993.
Schmitter, Philippe C., Civil Society East and West, Consolidating the third Wave of Demcracy, ed. Larry Diamond, Baltimore:Jons Hopkins University press, 1997.
Schuon, The transcendent Unity of Religions. Wheston, Illinois: The Theosophical Publishing House, 1984.
Soelaeman, M. I. Manusia-Religi Pendidikan, Jakarta: Dirjen PTPPLPTK, Jakarta, 1988.
Stark, One True God: Resiko Sejarah Bertuhan Satu, (terj). M. Sadat Ismail, Jakarta: Nizam, Yogyakarta: Qalam. 2003.
Sufyanto, Masyarakat Tamaddun: Kritik hermeneutis Masyarakat madani Nurcholish Madjid, Jogjakarta, Pustaka Pelajar, 2001.
Walzer, Richard, Al-Farabi on The Perfect State; A.Revised Tex With Introduction, Trnslation, and Commentary, Oxford: Clarendon Press, 1985.
WM, Abdul Hadi, Islam Kultural, Peranannya dalam Masyarakat Madani, Jurnal Universitas Paramadina, Vol. 1 No. 1, September, 2001.
Zakiyuddin, Ambivelensi Agama, Konflik dan Nirkekerasan, Yogyakarta: Lesfi, 2002.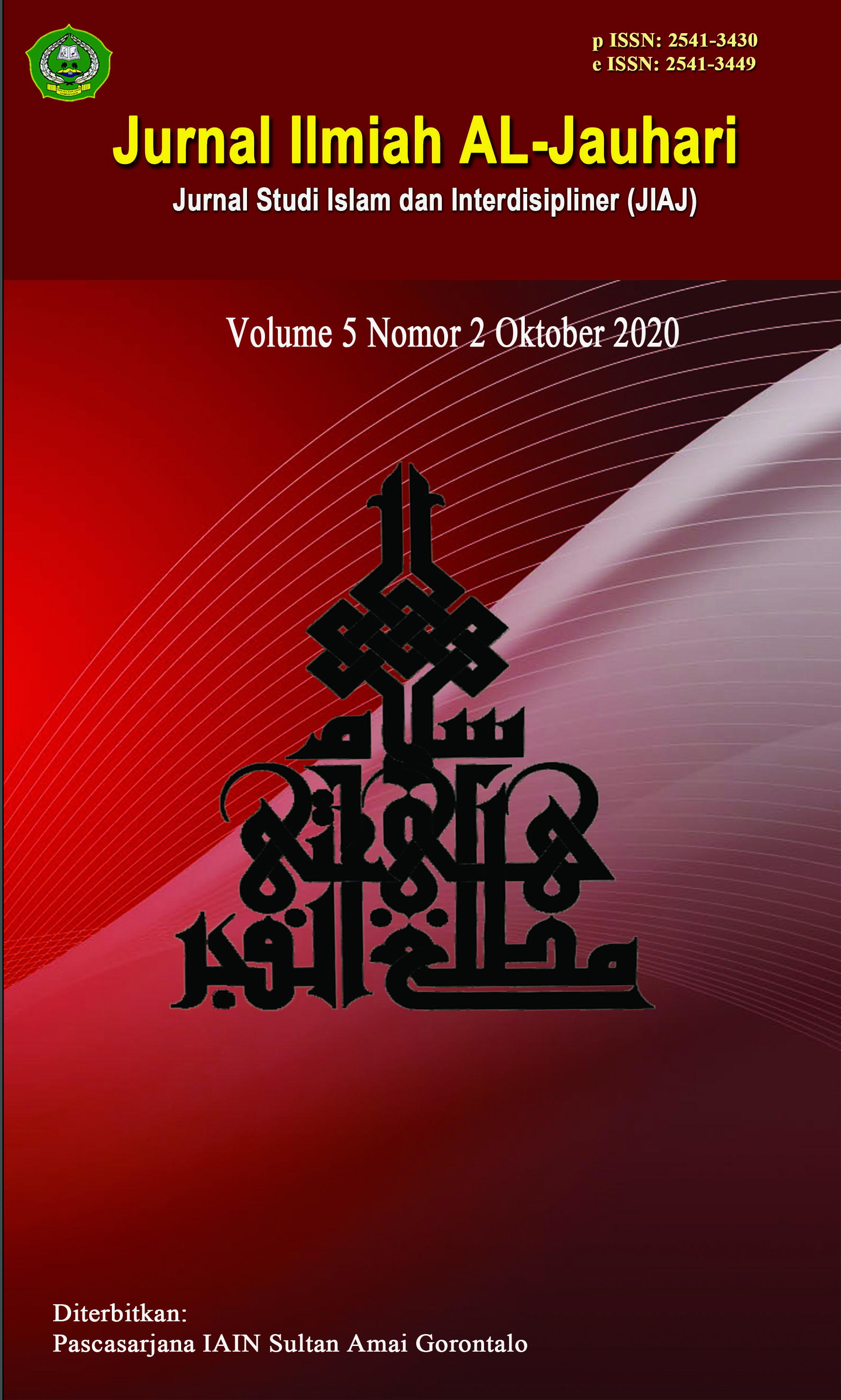 How to Cite
Jufri, A. (2020). Masyarakat Madani dan Penguatan Demokrasi Politik Islam di Indonesia. Jurnal Ilmiah AL-Jauhari: Jurnal Studi Islam Dan Interdisipliner, 5(2), 285-307. https://doi.org/10.30603/jiaj.v5i2.1385