Sinergitas Islam dan Budaya dalam Kearifan Lokal: Studi Adat Molobunga Yiliyala di Gorontalo
Muh Rusli

IAIN Sulltan Amai Gorontalo
Keywords:
Molobunga Yiliyala, Culture Custom, Local Wisdom
Abstract
The cycle of human travel on earth begins with birth, life and death. This cycle is conditional with the values ​​of local wisdom when viewed from the perspective of local customs and culture. In Gorontalo society the birth cycle continues with the custom of Molobunga Yiliyala (the burial of the placenta). Where the placenta is respected and glorified by traditional burial. This is inseparable from the belief of the Gorontalo tribe that the placenta is a twin of a baby who has noble functions and duties. Its function is to keep the baby out of the world and his job is to remind his twin during life to remember his vow with the creator, always obeying God. If his twin does not obey God, the placenta will consequently torture him on the Day of Judgment.
By using phenomenological approach, this study analyses the data obtained through interviews, observations, documentation, and focus group discussions. The results of the study showed that the procession of Molobunga Yiliyala was traditionally through several stages. Starting with cleansing and shading with various ingredients. Subsequently, it followed by the delivery to the burial place, then the funeral or burial, and finally, the recitation of prayer. In each procession it involves cultural symbols that are loaded with local wisdom values. Among them: the value of purity, reflection and appreciation of the perfection of the human creation process; hope to be a good human being. All these processes mean: respect for all God's creations, appreciation for brotherhood, respect for environmental cleanliness, and the value of supervision from God. These values ​​have implications for the religious socio-religious life of the religious Gorontalo community and live in harmony.
References
Abdullah, Irwan. dkk., Agama dan Kearifan Lokal dalam Tantangan Global. Cet. II; Yogyakarta: Sekolah Pascasarjana UGM dan Pustaka Pelajar, 2008
Agus, Bustanuddin, Agama dalam Kehidupan Manusia – Pengantar Antropologi Agama. Jakarta: PT. Raja Grafindo Persada, 2007.
Bakri, Hendry. Resolusi Konflik Melalui Pendekatan Kearifan Lokal Pela Gandong di Kota Ambon, Jurnal The Politics, Vol. 1, No. 1, Januari 2015
Bototihe, Medi dan Parha Daulima, Tata Upacara Adat Gorontalo Gorontalo: t.p., 2003.
Ghazali, Adeng Muchtar. .Antropologi Agama –Upaya Memahami Keragaman Kepercayaan, Keyakinan, dan Agama. Cet.I; Bandung: Alfabeta, 2001.
Ishak, Ajub. dkk, Mentari Serambi Madinah. Gorontalo: Sultan Amai Press, 2014.
Irrubai, Mohammad Liwa, Idrus Affandi, Nana Supriatna, Kearifan Lokal Awik-awik Desa Sasaot dalam Perspektif Hukum Islam, Jurnal Istindath, Vol. 16, No. 2, Desember 2017.
Kau, Sofyan A.P. dan Kasim Yahiji, Akulturasi Islam dan Budaya Lokal; Studi Islam tentang Ritus-ritus Kehidupan dalam Tradisi Lokal Muslim Gorontalo Malang: Inteligensia media, 2019.
Ruslan, Idrus. Dimensi Kearifan Lokal Masyarakat Lampung Sebagai Media Resolusi Konflik. Jurnal Kalam, Vol. 12, No. 1,Juni 2018.
Rufaidah, Erlina. Revitalisasi Desa Adat Berbasis Pendidikan dan Kearifan Lokal, Jurnal Kalam, Vo. 10, No. 2, Desember 2016
Sau, Ferbriani I. Kearifan Lokal Masyarakat Gorontalo dalam Naskah Tinilo Pa'ita dan relevansinya dengan pendidikan karakter, Artikel, UNG, Mei 2015, www. kim.ung.ac.id.
Saefulloh, Aris. Nalar Teologis Budaya Pamali pada Masyarakat Gorontalo dalam Perspektif Ulama dan Tokoh Masyarakat, dalam Prosiding IAIN Sultan Amai Gorontalo, 2014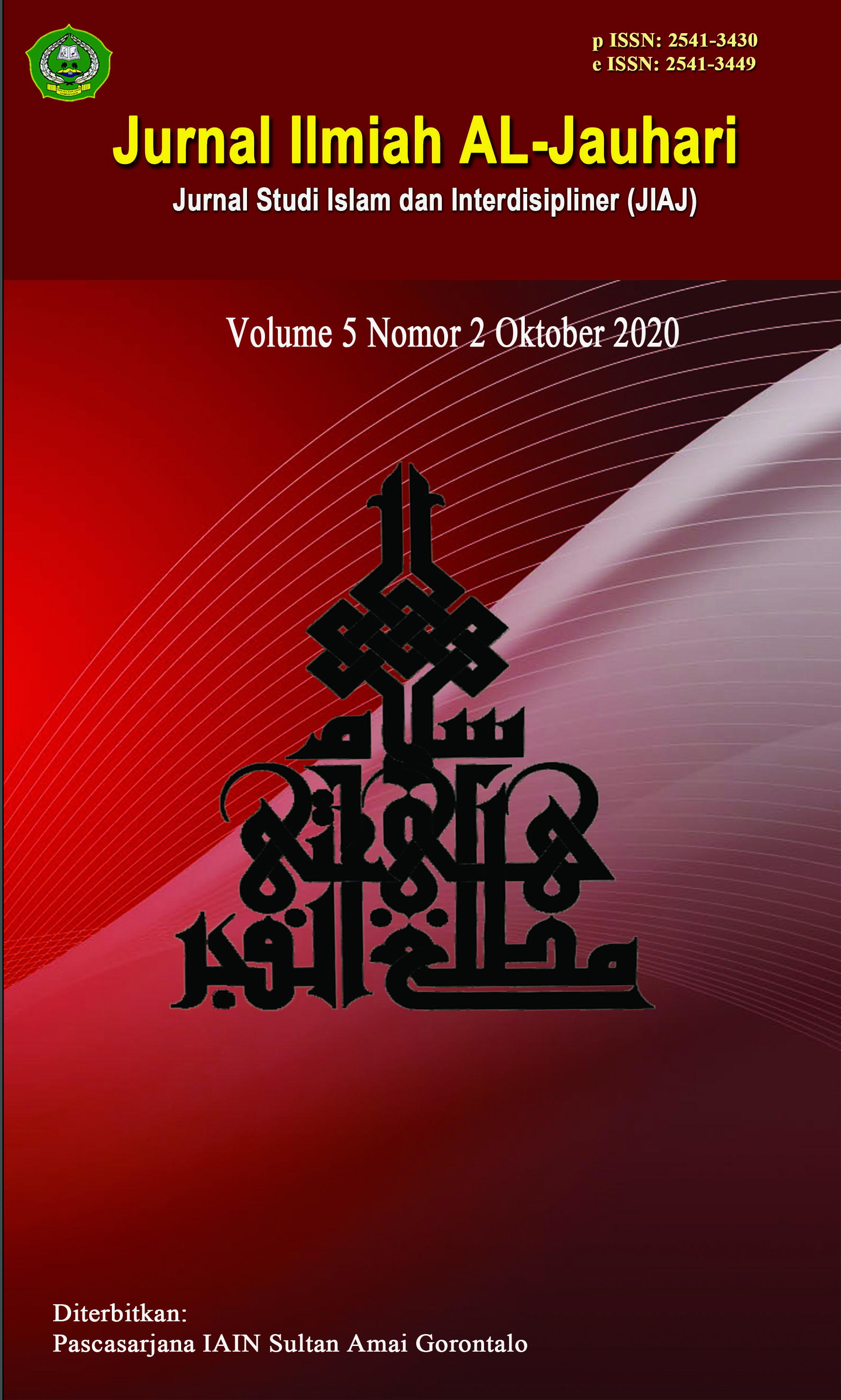 How to Cite
Rusli, M. (2020). Sinergitas Islam dan Budaya dalam Kearifan Lokal: Studi Adat Molobunga Yiliyala di Gorontalo. Jurnal Ilmiah AL-Jauhari: Jurnal Studi Islam Dan Interdisipliner, 5(2), 266-284. https://doi.org/10.30603/jiaj.v5i2.1817