EVALUASI PROGRAM PENJAMINAN MUTU STANDAR ISI PEMBELAJARAN PADA TAHAPAN MASUKAN (ANTECEDENTS) (Suatu Pendekatan Model Stake's Countenance Evaluatif di Universitas Muhammadiyah Makassar)
Keywords:
Quality Assurance, Content Standards and Evaluative Stake Countenance
Abstract
ABSTRACT
Improving the quality of education can be realized properly when the process runs continuously and continuously. The process of improving the quality of education gradually becomes a necessity following an improvement in quality that is better than before. This research is categorized as an evaluation research using mixed methods. This research uses a case study approach and the location of this research is the University of Muhammadiyah Makassar which is located at Jalan Sultan Alauddin No. 259 Makassar City. based on the objective standards of curriculum implementation determined from 8 sub-aspects showed that it was categorized as high or all evaluated had been achieved with an average value of 3.72 or high category. The results of the achievement of the quality of graduates at the University of Muhammadiyah Makassar at the results stage (output and outcomes) show that: a) most students can complete their studies on time, namely 4 years with a presentation of 65.58% with a satisfactory category, b) the GPA ranking of graduates shows that more who get a GPA > 3.50-4.00 with a percentage of 60.34% compared to a GPA below 3.50 with a percentage of 34.82%, c) the average waiting period for alumni to get a job is under 6 months with a percentage the achievement of 68.10%, d) the relevance of education and work of alumni shows that more work relevant to their education with an achievement of 76.14% than those who are not relevant to their education.
Keywords: Quality Assurance, Content Standards and Evaluative Stake Countenance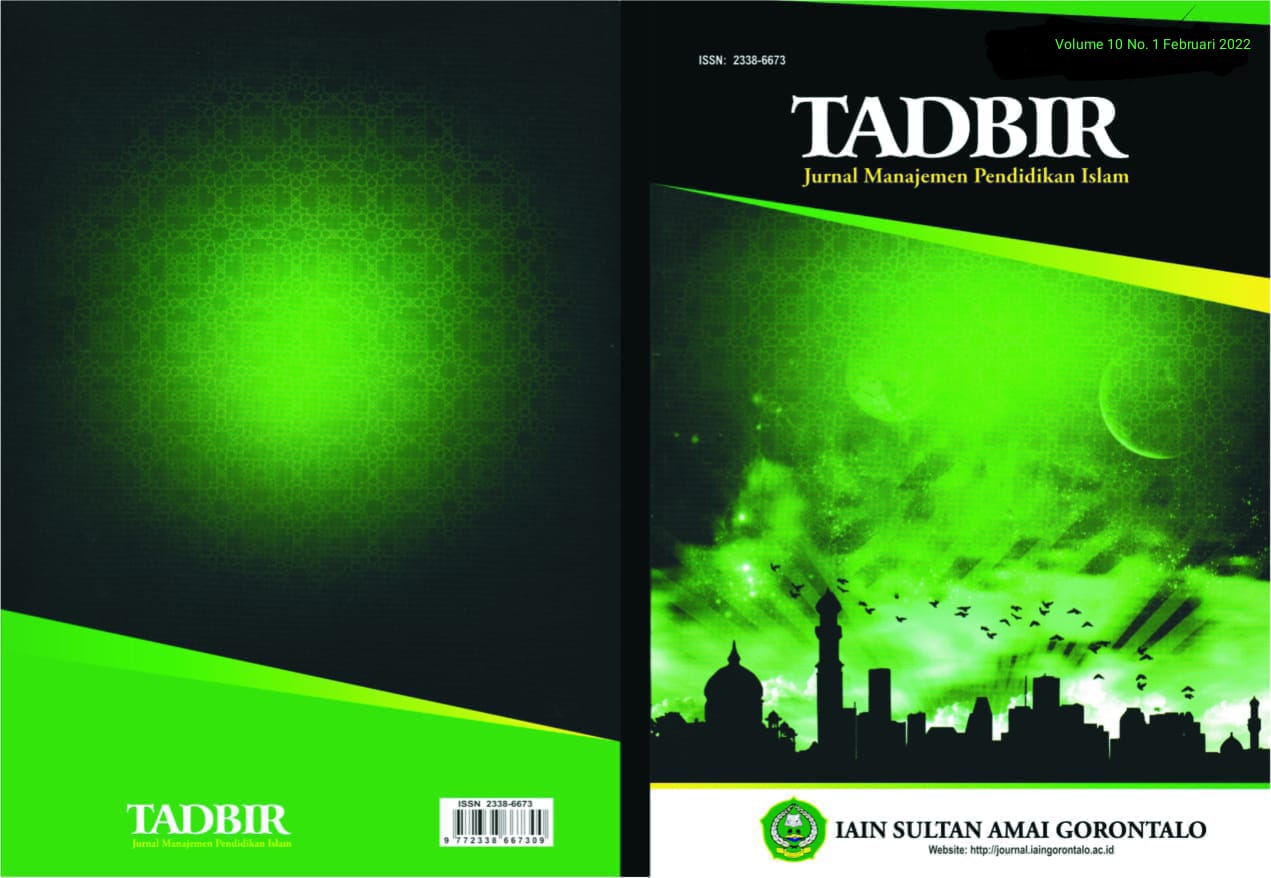 Downloads
How to Cite
Pewangi, M., Ferdinan, F., Alamsyah, A., & Pratama, S. . (2022). EVALUASI PROGRAM PENJAMINAN MUTU STANDAR ISI PEMBELAJARAN PADA TAHAPAN MASUKAN (ANTECEDENTS) (Suatu Pendekatan Model Stake's Countenance Evaluatif di Universitas Muhammadiyah Makassar). Tadbir: Jurnal Manajemen Pendidikan Islam, 10(1), 97–114. Retrieved from https://journal.iaingorontalo.ac.id/index.php/tjmpi/article/view/2529