Transaksi Go-Pay Pada Perusahaan Go-Jek Indonesia Cabang Makassar dalam Perspektif Hukum Islam
Keywords:
Transaction, Go-Pay, Go-Jek, Islamic Law
Abstract
The purpose of this study was to determine the Go-Pay transaction process and the problem of pricing between cash transactions and Go-Pay transactions as well as the solution to the perspective of Islamic law. A qualitative research method was adopted in this study by using the approaches of juridical normative and qualitative descriptive. The data sources are drivers, merchants, consumers, and companies as primary data and other scientific papers as secondary data. Data collection methods used were interviews, observation, and documents with the number of informants are 12 people. Data processing and analysis techniques were carried out in three stages, namely; reduction, presentation, and conclusion.  The results showed that there are three important processes in Go-Pay transactions, namely: Top Up Process, Transfer Process or Withdrawal Go-Pay Balances, and Payment Process. In the process of using Go-Pay are two transactions in Islam that take place, namely transactions:  al-Ijārah (service rental) and al-Ṣarf (money exchange) transactions.  Meanwhile, the problem faced by consumers in fixing prices between cash transactions and Go-Pay transactions is a problem that can be resolved by the Decree of the Head of the Minister of Transportation No.  KP 348 of 2009. From the perspective of Islamic law, the settlement with the Go-Pay transaction system is an al-Ṣarf transaction with the legal consequence that Go-Pay transactions are allowed in shariah with the promo offered by the company as a gift.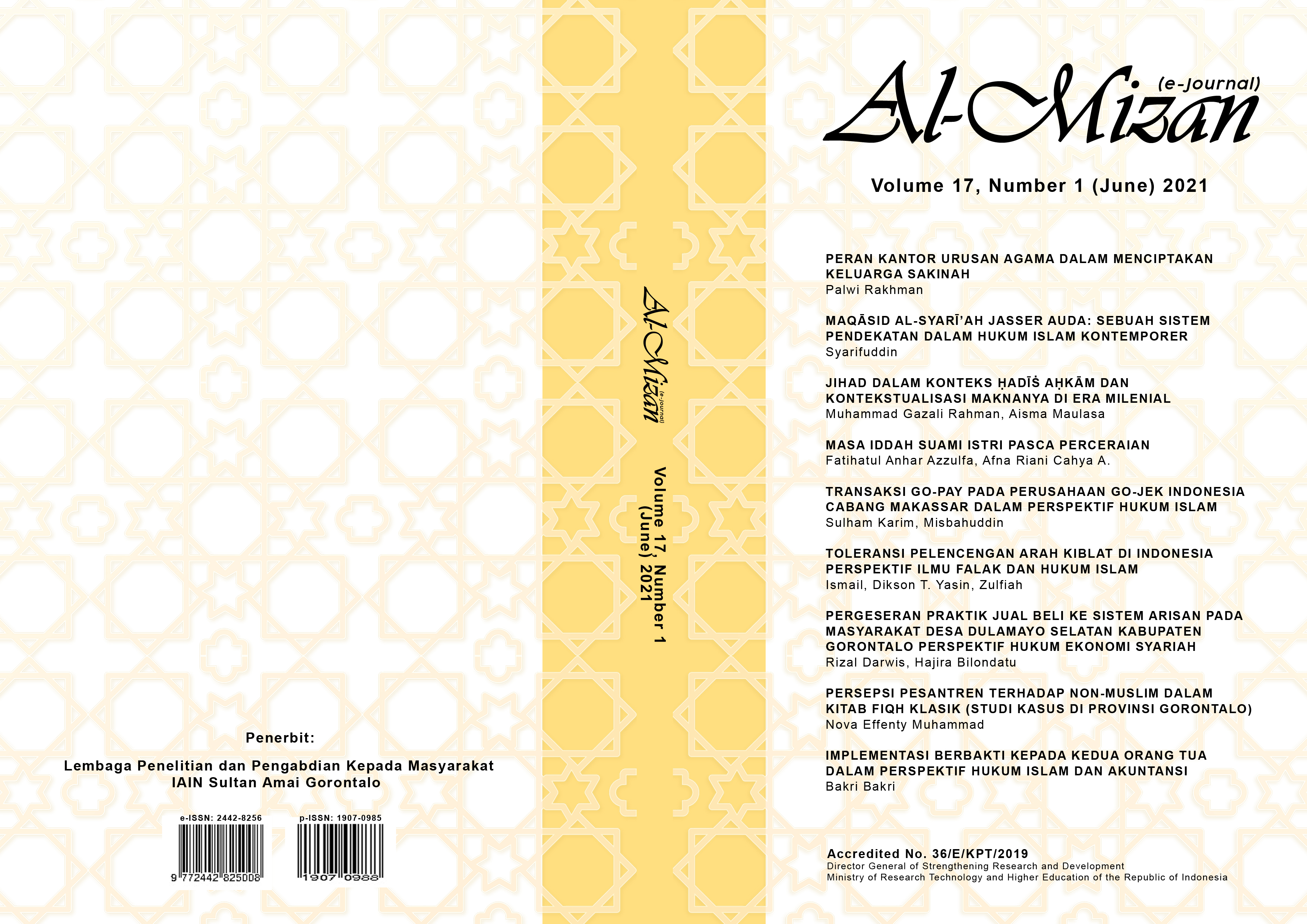 Downloads
How to Cite
Made Aming, S. K., & Misbahuddin, M. (2021). Transaksi Go-Pay Pada Perusahaan Go-Jek Indonesia Cabang Makassar dalam Perspektif Hukum Islam. Al-Mizan (e-Journal), 17(1), 89–114. https://doi.org/10.30603/am.v17i1.2002